Relationships form the cornerstone of every successful enterprise. Although relationship management as a function is a relatively new movement in the business world, it has existed as informal practice since trade amongst people first began.
However, the age of digitisation that has transformed every aspect of both business and society has also energised and forged formal relationship management practices. Digital transformation can bring technology and business practices closer together to underpin effective relationship management solutions.
According to Deloitte, business leaders are driving transformational change in order to respond to digital disruption and to future-proof their business. The primary business functions affected by this disruption include:
Technology-enabled Relationship Management gives organisations the ability to strengthen collaboration across their teams and key stakeholder groups. When implemented effectively, it is a business process-driven solution that enables enterprises to create and drive holistic, innovative, and value-driven interactions with their customers, suppliers, legislative authorities, and any other parties that interact with the organisation regularly.
Relationship management includes Customer Relationship Management (CRM) but extends to far more use cases and benefits across a business. In this whitepaper we'll outline some of these use cases and benefits.
Download the complete whitepaper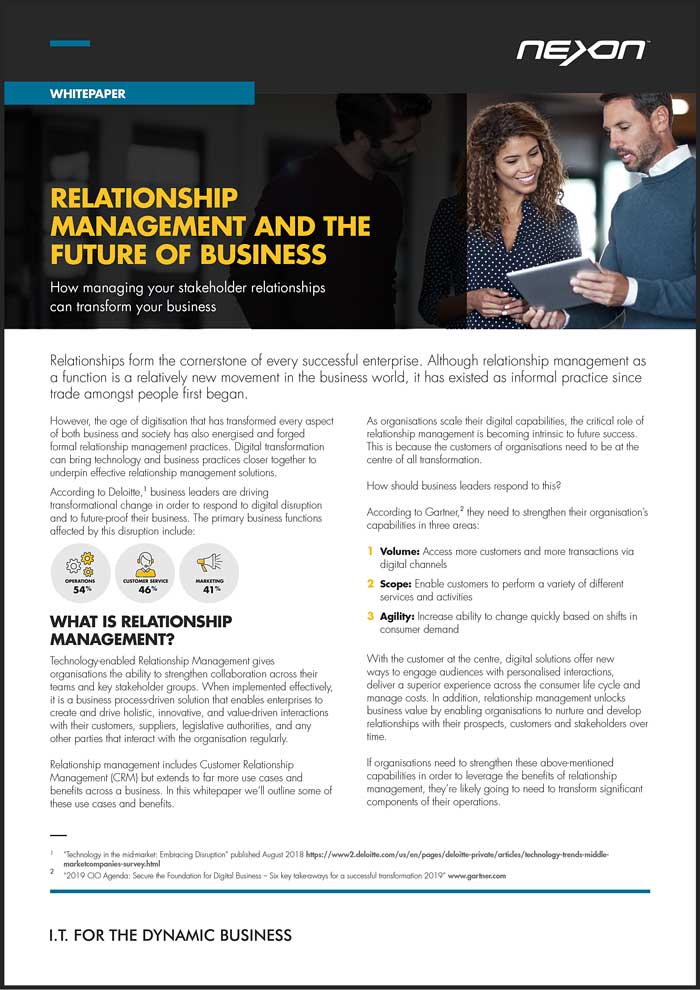 Download the complete whitepaper
Download
---
Next Generation Relationship Management
Manage the relationships and processes that matter most to your business and engage with any stakeholder effectively. Available anywhere, on any device.
Relationship Management Solution (CRM)
---
How Relationship Management can give your Business the Competitive Edge
Managing the relationships your organisation has with its key stakeholders is vital, but managing relationships effectively can be a challenge.
Read more
Founded in 2000, Nexon Asia Pacific (Nexon) is a cloud and managed service provider delivering cutting-edge solutions, to help businesses run more efficiently, create better user experiences and explore bigger opportunities.
Nexon's depth of expertise spans across a range of technology specialities and industries, bringing these skills together to create business solutions, simplifying the process – and the technology – for its clients.
---
Contact us on how Nexon can help your organisation achieve a fully collaborative environment.