If you're an IT or business leader looking to replace an old phone system, you probably are – and absolutely should be – considering a Unified Communications (UC) solution.
It is likely that your key objective is to enable your team to collaborate seamlessly from any location – whether it is to empower your sales or field staff, provide greater flexibility to your team or to appeal to the younger generation of workers. Many organisations are also looking to minimise the upfront investment, opting for an OPEX component when paying for their new solution.
This whitepaper provides a guide to selecting the right UC solution for your business and focuses specifically on mid-market organisations that may be considering a Microsoft UC solution.
While many products on the market may appear to 'tick all the boxes' in terms of your end requirements, it doesn't mean that any one of those products is the right fit for your organisation. When looking for a solution, organisations should bear in mind that the purpose of a UC solution is to improve business processes and hence the way that users interact with it is incredibly important. It is not worth making the investment if the outcome is merely staff picking up a different phone.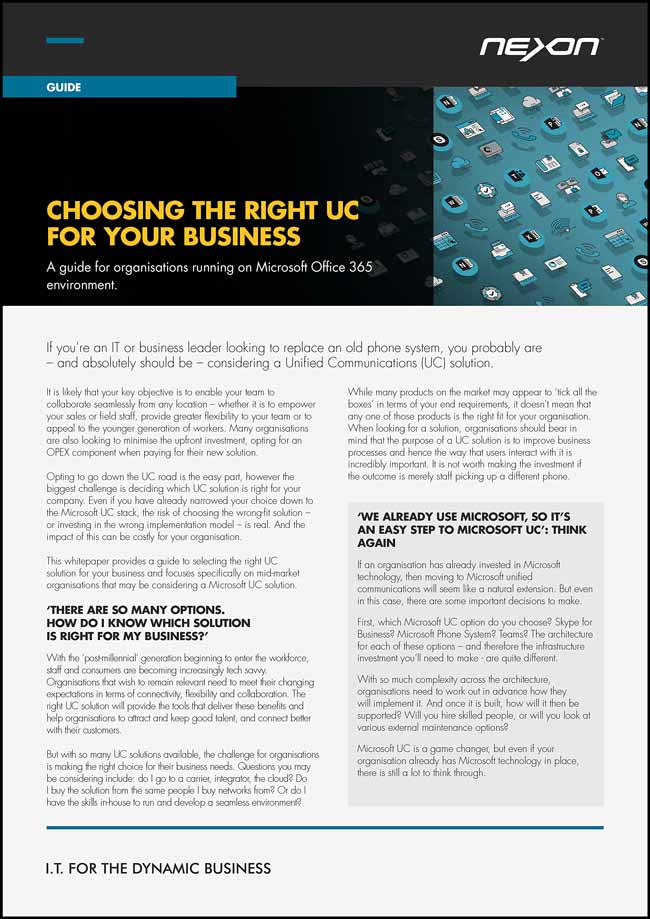 Download the complete whitepaper "Choosing the right UC for your business"
Download
---
Local council undergoes digital transformation by taking a leap into the cloud and empowers its people with the ability to communicate and collaborate anywhere.
Noosa Shire Council Case Study
---
Nexon Absolute is the most flexible way for you to experience benefits from using the full suite of Microsoft Skype for Business throughout your business.
Learn more about Nexon Absolute
Founded in 2000, Nexon Asia Pacific (Nexon) is a cloud and managed service provider delivering cutting-edge solutions, to help businesses run more efficiently, create better user experiences and explore bigger opportunities.
Nexon's depth of expertise spans across a range of technology specialities and industries, bringing these skills together to create business solutions, simplifying the process – and the technology – for its clients.
Get in touch with us today
Contact us on how Nexon can help your organisation achieve a fully collaborative environment.