SYDNEY, AUSTRALIA – 17 July, 2017 –
Nexon Asia Pacific (Nexon) has recently fulfilled the rigorous requirements and attained the certification of ISO/IEC 27001:2013 for the Provision of Information and Communication Technology (ICT) Solutions and Support Services across all its offices in Australia.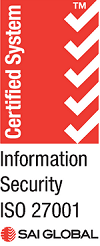 With the increase of voluminous data and cyber-attacks becoming more prevalent and sophisticated, it is essential for organisation to have a system in place to protect the information in the business.
As an Australian managed service provider delivering dynamic and secure I.T. services to organisations in the government, commercial and not-for-profit sectors across the country, Nexon recognises the importance and remains committed to build and maintain robust internal process to secure and protect the information in the business.
The certification demonstrates Nexon's compliance, ability and commitment to manage information so that it remains safe and secure for our clients. By putting in place the ISO standard, procedures and processes in the business, Nexon assures clients with its commitment about information security by walking the talk through bringing information security into the heart of the business and supporting its business strategy and objectives.
The ISO/IEC 27001:2013 standard specifies the requirements for establishing, implementing, maintaining and continually improving an information security management system within the context of an organisation such as Nexon. It also includes requirements for the assessment and treatment of information security risks tailored to the needs of the organisation.
About Nexon Asia Pacific:
Founded in 2000, Nexon is an Australian cloud and managed service provider who specialises in providing business technology solutions to dynamic businesses across commercial, government and, not-for-profit sectors. Its solutions offerings include cloud services, unified communications, network infrastructure and business applications. The company's mission is to deeply connect people in productive and efficient ways. Nexon serves clients both across Australia and in some countries in the Asia Pacific region and employs approximately 150 business and technology professionals. It has won numerous awards over the years for its development of innovative cloud and unified communications solutions. For more information about Nexon, visit its website at https://nexon.com.au