In our last post, we introduced the enterprise resource planning solutions offered by Nexon to our valued customers. One of the key advantages of this solution is the Cloud-based platform that ensures enhanced capability, reliability, security, and flexibility for integrated applications across the board.
But, chances are you already have an enterprise resource planning solution and are already experiencing its benefits. Perhaps you are already using Microsoft Dynamics, only you are using an on-premise version of Dynamics GP. If you are already experiencing results, why opt for migration?
The answer is simple. A Cloud-based solution like Microsoft Dynamics 365 Business Central can unlock a wealth of benefits for your business.
What Dynamics 365 Business Central offers
Firstly, the Cloud-based format of Dynamics Business Central brings with it a number of advantages. The high number of businesses migrating their applications, data, and other key digital assets to the Cloud in recent years demonstrates how critical this digital architecture is in the modern landscape.
In terms of ERP, this means better integration for applications, optimised resource usage, and increased business agility . Beyond the benefits of a Cloud-based ERP, here's what users can expect from Dynamics Business Central.
High-level financial management and accounting capabilities, enabling businesses to reduce costs and maximise revenue
Operational management and stock tracking to secure better customer service and to reduce time to market for new products and restocks
A vantage point from which to oversee lead statuses, client contacts, and key partners, as well as nurturing relationships with all parties
Human resources applications that facilitate better workplace morale
Powerful analytics and reporting, delivering ever greater insight for businesses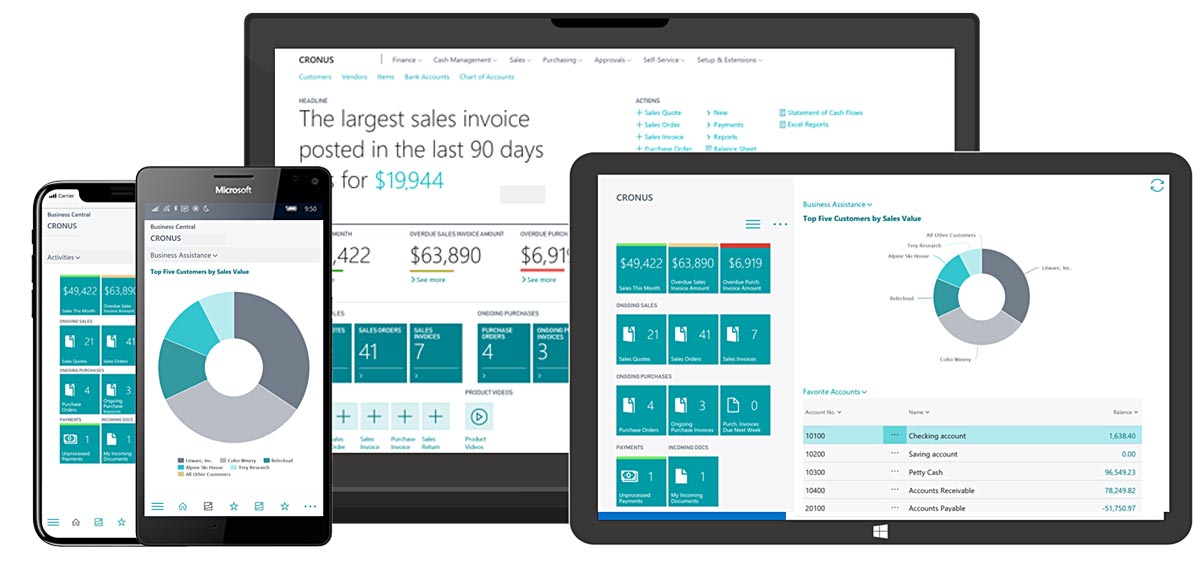 Key benefits for your business
Maintaining an on-premises ERP solution will certainly deliver benefits, but it also exposes businesses to risk. Should a problem arise with your self-managed solution, this can result in reduced capability at best, and total downtime at worst — two eventualities that could cost your business dearly.
What's more, you may find it difficult to get your on-site solution back online, resulting in increased lost revenue with each passing day.
Cloud-based solutions such as Dynamics 365 Business Central eliminate this risk, paving the way for reliable security and 99.98% uptime.
Other benefits include;
Integration with legacy applications, to ensure ongoing business continuity and minimal disruption during migration
Custom solutions that meet the needs of your business
Ongoing managed services from Nexon, ensuring total compliance, fully optimised capability, and complete peace of mind
Guidance and support from Nexon throughout the whole of the migration process and beyond, allowing you and your team to focus on running your business in the right way
Nexon's ERP solutions: Helping your business achieve the very best
Here at Nexon, we are excited to offer Microsoft's Cloud-based Dynamics Business Central platform and to connect our customers with the advantages it provides.
By partnering with Microsoft in this way, we ensure that they can leverage the very best from a range of industry-leading enterprise apps, as well as experience the benefit of tailored solutions that are designed exclusively for their needs.
In this sense, our ERP solutions integrate perfectly with the vision we have for our customers. By providing these services, we are extending the advantages we offer to them, and reinforcing our position as their go-to managed service provider.
Ready to discover how the advantages of Nexon's ERP solution can benefit your business?
To learn more about Nexon's ERP solutions, about Microsoft Dynamics 365 Business Central, or about Cloud-based enterprise resource planning in general, get in touch.
Our team are ready to help you optimise your operations and your position in your field.
Find out more about our Enterprise Resource Planning solution.