Financial institutions are expecting more than ever from their managed services I.T. partner. Increased compliance demands, dynamic markets conditions, everchanging customer demands and the existential threat of cyber-crime all serve to increase the reliance on technology solutions.
The technology available to the financial sector is advancing as fast as the industry changes and updates regulation. As a result, financial services organisations find themselves needing an I.T. partner that can help them make the transition of core services to the cloud and take a proactive approach to cybersecurity while remaining compliant with industry regulations.
At the same time, the sector must deal with the reputational impact of the Australian Banking Royal Commission. Financial services organisations from the "Big 4" down are dedicating their efforts to strengthening their credibility and rebuilding or revalidating their customer's trust.
---
The right I.T. partner provides the technology, compliance and security foundations as well as the resilience and capability to build new services, serve new markets and constantly improve customer experience.
Beyond Covid and cloud, what are the issues keeping Financial Services leaders awake at night? Nexon Asia Pacific and Cisco commissioned research to answer that question and provide crucial insight into:
Cyber-security risks​
Adoption of a cloud infrastructure​
Trying to keep up to date with new technologies​
Increased competition​
Compliance and government regulations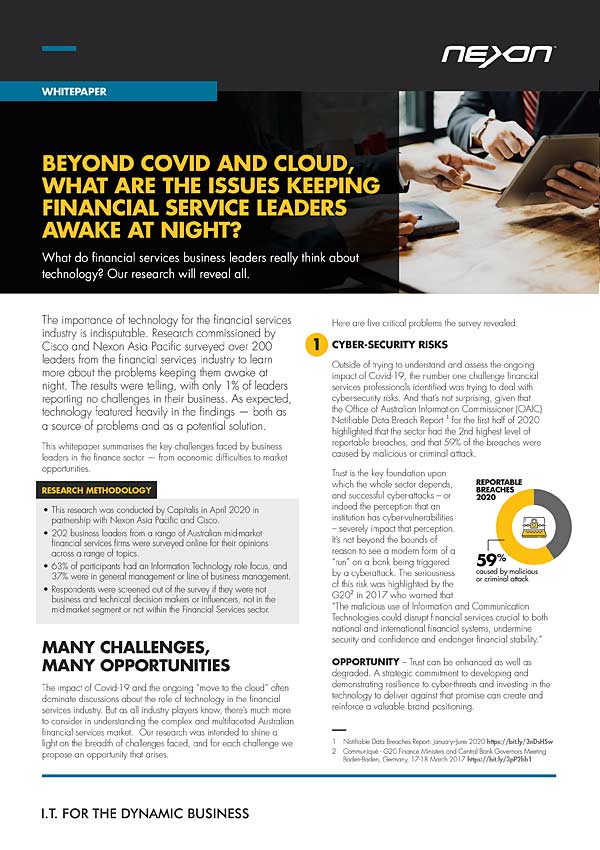 Whitepaper
Beyond Covid and Cloud, what are the issues keeping Financial Service Leaders awake at night?
What do financial services business leaders really think about technology? Our research will reveal all.
Building integrated solutions for an evolving market
All financial services firms face similar challenges: the need to be and remain compliant, build and strengthen customer loyalty, win new business, streamline daily operations and reinforce data security.
With expertise in designing, building and delivering enterprise-grade business technology using smart delivery models tailored to suit your business, Nexon provides customised solutions to established and emerging financial service providers across Australia.
By partnering with you to build a customised I.T. delivery model, Nexon has broad experience in a range of environments and can leverage a suite of specialised services and expertise to address your specific needs.
Does your current managed service provider:
Deliver solutions that enable your organisation to meet APRA requirements and remain compliant?
Offer individual services that will help you transition your business to the future by providing end-to-end solutions?
Guide you through transforming and updating processes to bring about changes that include higher productivity and improved customer experience?
Offer end-to-end cyber-security solutions protecting customer data, ensuring compliance and guarding against the financial and reputational impacts of cyber-attacks?
Provide you with flexible solutions with a clear link to the value created?
Help you to seamlessly and securely migrate your core services to the cloud?
Nexon can help your organisation to:
Create and automate audit and compliance processes
Meet APRA compliance requirements
Exploit the synergies uncovered by a multi-cloud environment
Deliver more personalised service and improve client relationships
Explore new opportunities for growth, staying ahead of the competition
Improve forecasting, budgeting, situational planning and reporting
Improve cash flow, save time by speeding up processing and reduce administration costs
Keep all confidential data secure from the persistent threat of ever more complex cyber-threats
Transition your business to a modern workplace with improved collaboration and communication platforms
---
Our commitment is to ensure your business is flexible, your I.T. infrastructure delivers reliability, within an acceptable cost structure.
Our consultancy approach involves understanding every aspect of your organisation, goals and challenges. We combine that insight with our experience and solutions expertise to build the best platform to deliver your technology strategy.
The process will include auditing existing systems, identification of critical components and evaluation of your cyber-security posture. This ensures recommendations made reflect the holistic reality of your environment and recognises compliance obligations.
We understand the challenges
Our most recent research and experience show that cyber-security risks​, adoption of a cloud infrastructure​, trying to keep up to date with new technologies​, increased competition, compliance and government regulations are your top challenges.
To successfully navigate this environment, your I.T. team requires the training, tools and the right partner to be able to rapidly respond to novel threats whilst maintaining a flexible stance so that integration of new technologies becomes BAU.
Nexon has a strong track record delivering strategic I.T. Solutions to financial services organisations.  We identify new and emerging technologies that support your business objectives, and deliver end-to-end solutions that streamline your everyday operations, improve communication and strengthen your security.
Our goal is to work with you to design solutions blending new and improved I.T. business technology with your existing systems to enable a competitive, modern, agile workplace.
Every business has unique I.T. challenges. Here at Nexon, we've made it our business to design, implement and manage I.T. solutions while keeping the in-depth understanding we've gained at the forefront of our minds.
We're fully integrated with your business meaning we share the risks and rewards involved in creating agile and dynamic modern workplaces.
Our team of experts are ready and waiting to conduct a complimentary, no-obligation consultation to assess the technology needs of your organisation.
Brochure
Managed I.T. for Financial Services
Transforming customer experience for financial services with compliant and secure IT solutions.
---
---
---
Call us at 1300 800 000 or email us at enquiries@nexon.com.au to discuss how we can support your efforts to transition to a more dynamic business model that allows you to do more.
Contact Us