SYDNEY, 19 February 2016 – Nexon Asia Pacific won the 2015 Australian Cloud and Service Provider of the Year – Australia at Veeam ProPartner of the Year Awards held in Taronga Zoo, Sydney on 18th Feb 2016.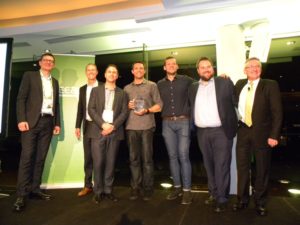 Nexon Asia Pacific was recognised at the Veeam's annual ProPartner Conference for the ANZ region in Sydney with a 2015 Australian Cloud and Service Provider of the Year award for its demonstrated success in providing support to customers with outstanding service and expert knowledge.
"It is a privilege to have been selected for this award," said Barry Assaf, Director of Nexon Asia Pacific. "Since becoming Veeam's first platinum partner in Veeam Cloud and Service Provider Program (VSCP), Nexon has been working together with Veeam to deliver its Always-On Business suite of backup, disaster recovery, and virtualization management solutions to our customers. We look forward to an even closer collaboration with Veeam going forward."
Veeam's awards recognize the year's top performers who demonstrated success in providing Veeam Availability solutions to their customers with first-class support, expert knowledge, continued education and a true Veeam-led strategy incorporated into their business.
For more info about the Veeam Pro Partner ceremony Awards please visit: https://www.veeam.com/news/veeam-announces-2015-propartner-award-winners.html
About Nexon Asia Pacific:
As a privately-owned Australian company with a track record in delivering innovative business technology services, Nexon is small enough to be agile and responsive to the needs of today's business, yet big enough to provide comprehensive, enterprise-grade IT solutions.
From Unified Communications, Network Services, Infrastructure, Business Continuity, Security or Cloud Technology, Nexon's agile and scalable IT solutions help businesses run better, create better IT experiences, and explore bigger and better opportunities.
Learn more about Nexon at https://nexon.com.au/products