As more and more consumers use the internet for shopping, information and donations, it's important that your organisation remains competitive, innovative and agile. Your systems and platforms must be fast, secure, and reliable to allow you to stay ahead of the competition, while offering the best customer experience possible. After all, it only takes one slow, inconsistent, frustrating experience for a customer to shut down your page and search for a new store or service offering.
For this reason, your organisation, whether it's big or small, needs a high performance, reliable fibre network, such as business nbn® Enterprise Ethernet. This will ensure the experience you offer your customers is consistent and fast, so they return over and over again… And isn't that what we want?
What is business nbn® Enterprise Ethernet and why do you need it?
business nbn® Enterprise Ethernet is a premium fibre product that is fast, adaptable and designed specifically for organisations – regardless of their size and industry.
When an organisation is running applications that are time sensitive and require consistent bandwidth, those that run on the cloud, or that rely on upload speed as much as download speed, they need a fast and adaptable fibre network. This is where business nbn® Enterprise Ethernet enters stage left.
Data over business nbn® Enterprise Ethernet comes with a symmetrical profile, which means it has the same upload and download speeds. For applications such as cloud computing and video conferencing, uploads can be just as important as downloads to ensure you have consistent connectivity and zero latency.
business nbn® Enterprise Ethernet also offers you the ability to adapt if your business changes – such as an increased number of employees, or more bandwidth-heavy applications – as it can be scaled based on business needs. This allows you to continue being productive, collaborative, and innovative, regardless of changes or disruptions.
How does business nbn® Enterprise Ethernet differ from residential internet services?
Unlike the Internet at home, where the biggest downloads usually involve a blockbuster movie or the latest binge-worthy series, business nbn® Enterprise Ethernet has the ability to support a wide range of business needs and applications. Enterprise Ethernet can:
Scale up or down, to match increasing employee numbers or the need for more bandwidth-heavy applications
Prioritise your business applications ahead of residential and other businesses using the same network
Prioritise data for your business so there's less congestion and downtime
Offer superior speeds for more productivity and innovation
Why is it important for your organisation to connect to a fast, reliable network?
Put simply, a premium, reliable network can improve your productivity levels across your entire organisation. Traditional broadband cable or DSL services offer typical speeds between 10 and 30 Mbps (Megabits per second). business nbn® Enterprise Ethernet is much, much faster. And more reliable by a country mile. It runs on a complete fibre network, including dedicated fibre between premises and the Fibre Access Node (FAN).
So, what does this actually mean? business nbn® Enterprise Ethernet is a premium-grade solution that's designed to optimise performance, help minimise downtime, and boost productivity.
Fast Internet access ensures employees are more productive and satisfied. Time wasted on slow Internet speeds is frustrating as well as a waste of time.
A fast, reliable network can reduce costs through better, streamlined processes and by reducing costly redundancies.
Poor Internet performance can act as a barrier to cloud applications. business nbn® Ethernet Enterprise ensures organisations can access new products to support business success.
Remote working opportunities are increased with a fast, reliable network. This means clients, customers, staff and partners can collaborate more efficiently, no matter where they are.
Traditional Internet services can suffer from latency issues, especially during peak times. Enterprise Ethernet can handle large uninterrupted data transfers and offers more efficient use of cloud-based applications.
How to determine the best connectivity to drive the outcomes you need
Working out the best network for your organisation can be confusing, time-consuming, and honestly, in the too-hard basket. However, by partnering with a trusted and experienced consultant, like Nexon, you can determine the best connectivity for your specific organisational needs, and not have to be on hold with a retail provider for hours on end.
Nexon transacts with wholesale carriers removing that often frustrating part of the equation from your to-do list in order to deliver last mile network services. This means your IT team can connect branch sites to an application, either via private or Internet connection, leveraging SD-WAN to determine the most secure and relevant path.
But that's not all. A consultant like Nexon can deliver multi-site connectivity with a CPE deployment including:
Expert advice on the best network access solution and carrier
Minimal or no disruption to service during network transfer
Internet or private cloud on-ramp with dynamic routing protocols
Choice of access, diverse access at sites
Failover with 4G/5G next-gen satellite option
Their secure and agile infrastructure offers you visibility and control to enable productivity while controlling risk. Which is always a good thing.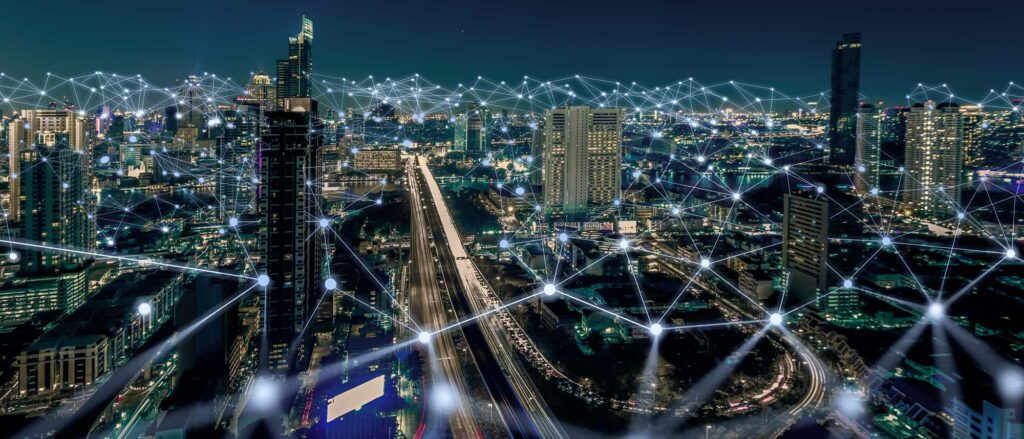 Down to brass tacks: the benefits of a reliable network run on business nbn® Enterprise Ethernet
If you're planning for your future, it's important you modernise, simplify, and scale your connectivity, as your reliance on cloud-based services grows. A business-grade network is just one piece of the puzzle. But the capabilities it offers you are essential to drive growth, boost employee satisfaction, and improve customer experience. The most important benefits of enterprise ethernet include:
Superior connectivity
Faster speeds of up to 10Gbps
Access to the cloud
Consistent, high-quality experience
Choice of bandwidth options
Equal upload and download speeds (aka synchronous speeds)
Network availability target of up to 99.95%
Lower latency
Interference reduction
Want to learn more about the features of business-grade fibre from nbn®? Click here.
Nexon is your partner of choice to simplify and streamline your organisation's connectivity
As a digital consulting partner that helps organisations like yours manage their network infrastructure day in and day out, at Nexon we know how to deliver better connectivity across your digital landscape. We work with you to design and modernise connectivity across your organisation to help drive agility, security, scalability, and performance.
We deliver enterprise-grade networking overlaid with security and SD-WAN solutions, to help you optimise access to cloud platforms and applications no matter the site location, or the end user's location.
We can transition your organisation from legacy ADSL to business nbn® Enterprise Ethernet network with care, skill, and collaboration.
We also support and manage your end-to-end network requirements and provide accessible infrastructure foundations for your digital initiatives.
Ultimately, our team of experts can help transform and reimagine your network, with a reliable, future-proof fibre network. This will enable you to innovate and leverage new technologies to support better digital and customer experiences.