Maximising efficiency and compliance to achieve more with less
It's that time of year when we get together with the local government community around Australia, to catch up with our customers, to connect and showcase some of the amazing ways we've been working with Councils to shift the status quo.
Using our insights, inspiration and momentum, we're able to help local governments realise a vision of building connected, resilient, digitally led teams who leverage technology to deliver better outcomes and realise efficiencies to manage costs and achieve their ultimate goal of doing more with less.
Experience + Culture + Technology
We know that digital transformation journeys are well underway, with most local government departments on their nth iteration of a roadmap. Yet so often these roadmaps are disconnected and struggling to deliver measurable value either in dollars or through benefits.
We believe the Experience + Culture + Technology trifecta is what local government organisations should be focusing on. When people and customers are happy and technology is adding value in all the right places, local councils are benefiting. From new levels of staff engagement, vastly superior and more efficient customer experiences through to faster, more informed decision making, our end-to-end solutions are creating a clear and measurable shift in performance metrics which can't be ignored.
Building community value and trust
For local councils, the pursuit of building stronger communities has never been more critical and we're helping many navigate through the challenging crossroad of tradition and innovation. By taking a holistic perspective of local government organisations, and bringing our experience of working with many others, we're able to understand, map and define end to end customer, stakeholder and resident experiences.
By creating a cohesive roadmap which addresses all the issues and opportunities and mitigates risks, we focus on creating technology which automates the everyday while harnessing the power of human connection where it adds impact.
When integrated smart infrastructure is strategically planned and underpinned by data driven technology platforms which provide powerful insights and decision-making capability like never before.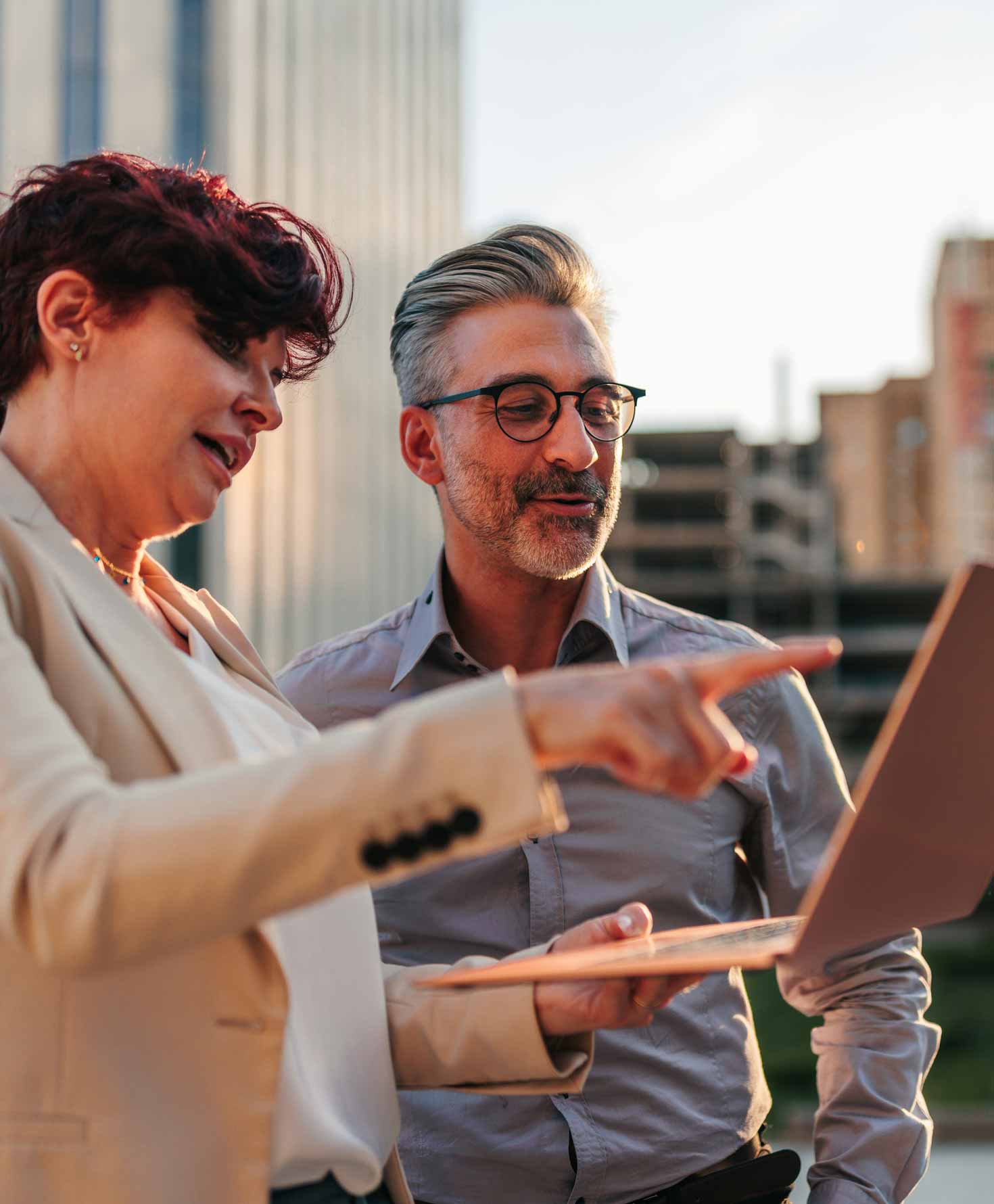 One Team, One Strategy
Ultimately, building trust means everyone on the same team, working towards common goals. It also means building enabling infrastructure which drives cohesion through connected systems and interconnected data assets to ensure experiences are informed with the same insights, positioning local councils and communities for a technologically advanced future.
Unleashing the power of data
One of the primary challenges faced by local government departments is the fragmentation of information across different systems. Integrated IT solutions break down silos by connecting disparate data sources, streamlining processes, and creating a unified view of information. This enhances operational efficiency and allows departments to provide more accurate and timely services to residents.
Informed decision-making is at the heart of effective governance. Through advanced analytics and business intelligence tools, decision-makers can integrate data assets and gain valuable insights into community trends, resource allocation, and performance metrics, empowering community driven decisions using real time data to make real time impact.
In addition, using predictive analytics, local councils can forecast trends, identify potential issues, and allocate resources strategically. This foresight enhances service efficiency and positions local governments as proactive stewards of their communities and trusted custodians of their information.
Local councils have transitioned from band aiding specific issues through disparate platforms, to unifying and simplifying technologies and platforms to drive efficiency and operational excellence.
With a focus on ensuring data security and governance is prioritised and protected, it's time to embrace the range of tools and advanced technologies available to simplify operations, increase security and achieve sustainability goals across on-premises and hybrid cloud environments.
By unifying storage and data services, using advanced analytics solutions such as AIOps, organisations can benefit from the flexible consumption parameters and integrated protection needed for seamless interactions and advanced data security and governance services while benefiting from common operational policies and processes across your data estate.
Find your power partner and use them wisely
At this year's LGAQ event in Gladstone, we enjoyed bringing together the power of the Nexon offering with that of our strategic partner, NetApp. Together we're able to optimise, and streamline, data controls across client environments. With a single, unified control plane for operating, automating, consuming, and protecting all your infrastructure and data, wherever it resides, we provide the tools and insights to innovate, make measurable impact and empower stronger communities.
For many clients we're their secret superpower, by understanding their needs, creating an infrastructure which brings the best of the organisation to bear, and being on the front foot with new technology, enables us to pro-actively suggest and implement technology solutions which propel that shift towards measurable and impactful outcomes.
We're your partner in transformation across the technology stack, from experience to integration to innovation, we're committed to providing the tools and expertise needed to champion local governments into a new era of efficiency, engagement and community empowerment.
We'd love to share some of our experiences and outcomes in working with local councils, and we're committed to redefining the landscape of local governance to create communities which flourish in the digital age.