A business that is always available and 'always on' for its customers is critical in this online world.
The success of your business is directly related to the availability of your online systems which enable end users, such as customers and staff, to interact, transact and obtain information from your organisation.
The technology which enables this 'Always On' phenomenon is not a recent invention. In fact, organisations have been able to provide this facility since the proliferation of technology networks. Historically, the issue of cost prevented many organisations from taking advantage of high-availability platforms for their online systems.
In this informative and complementary whitepaper you'll discover what's required for high availability and the key business benefits of being 'always on'.
---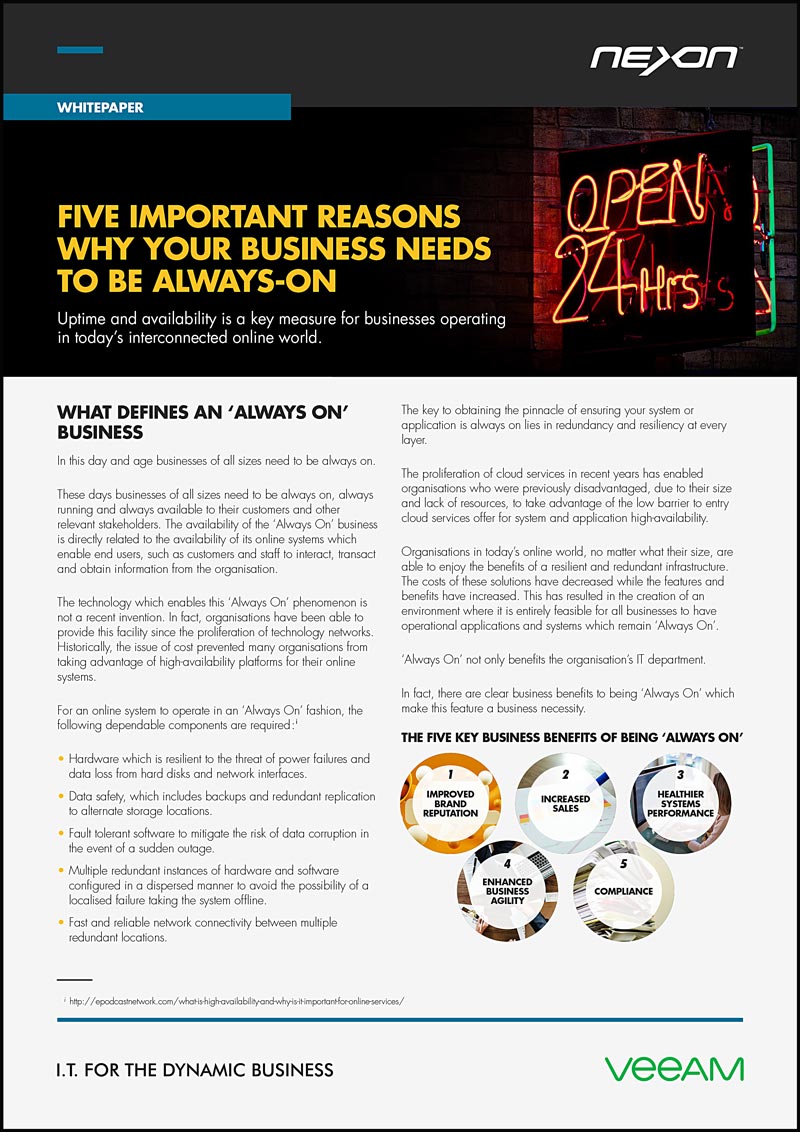 Download the complete whitepaper
Download
A new generation of IT infrastructure needs a new backup technology platform. One which is specifically created and developed to mitigate the risks and take advantage of the opportunities present in this new digital era.
With Nexon Backup and Recovery services powered by Veeam, we support you to achieve agility and high availability in an always on world.
Learn more
Nexon provides cloud-based backup and recovery services that mean you're in safe hands when disaster strikes.
Always on, always available, your data can be accessed from the office or on the move, so when you need it, you've got it.
---
Pitcher Partners chooses Nexon to drive their always-on IT strategy and help move from a limited on-premise infrastructure solution to an agile, cloud-based solution.
Learn more
---
Checklist: High Availability
A checklist has been collated to help you ensure the solution you have implemented for your business delivers high availability.
Download
---
Transform the way you protect your data
Businesses which run modern IT infrastructure environments need innovative data protection solutions.
Read more
Founded in 2000, Nexon Asia Pacific (Nexon) is a cloud and managed service provider delivering cutting-edge solutions, helping businesses to run more efficiently, create better user experiences and explore bigger opportunities.
Nexon's depth of expertise spans across a range of technology specialities and industries, bringing these skills together to create business solutions, simplifying the process – and the technology – for its clients.
Get in touch with us today
Contact us on how Nexon can help your organisation achieve a fully redundant, always-on I.T. environment.