As enterprise technology fragments into a puzzle of cloud platforms, legacy systems, apps and integrations, piecing it together is harder than ever. The 'platform of platforms' concept has been around for a while, but maybe it's time for a 'partner of partners' to deliver unified solutions built to evolve fast.
Did you know the average number of software-as-a-service (SaaS) applications used by organisations last year was 130? Up from 16 apps just four years ago. Not to mention the proliferation of connected devices and an increasingly remote workforce. It's no wonder our heads are spinning in the tech space.
In years gone by, you'd get away with a few core technology vendors and one in-house IT support team. But today, technology is a sprawling 1000-piece puzzle.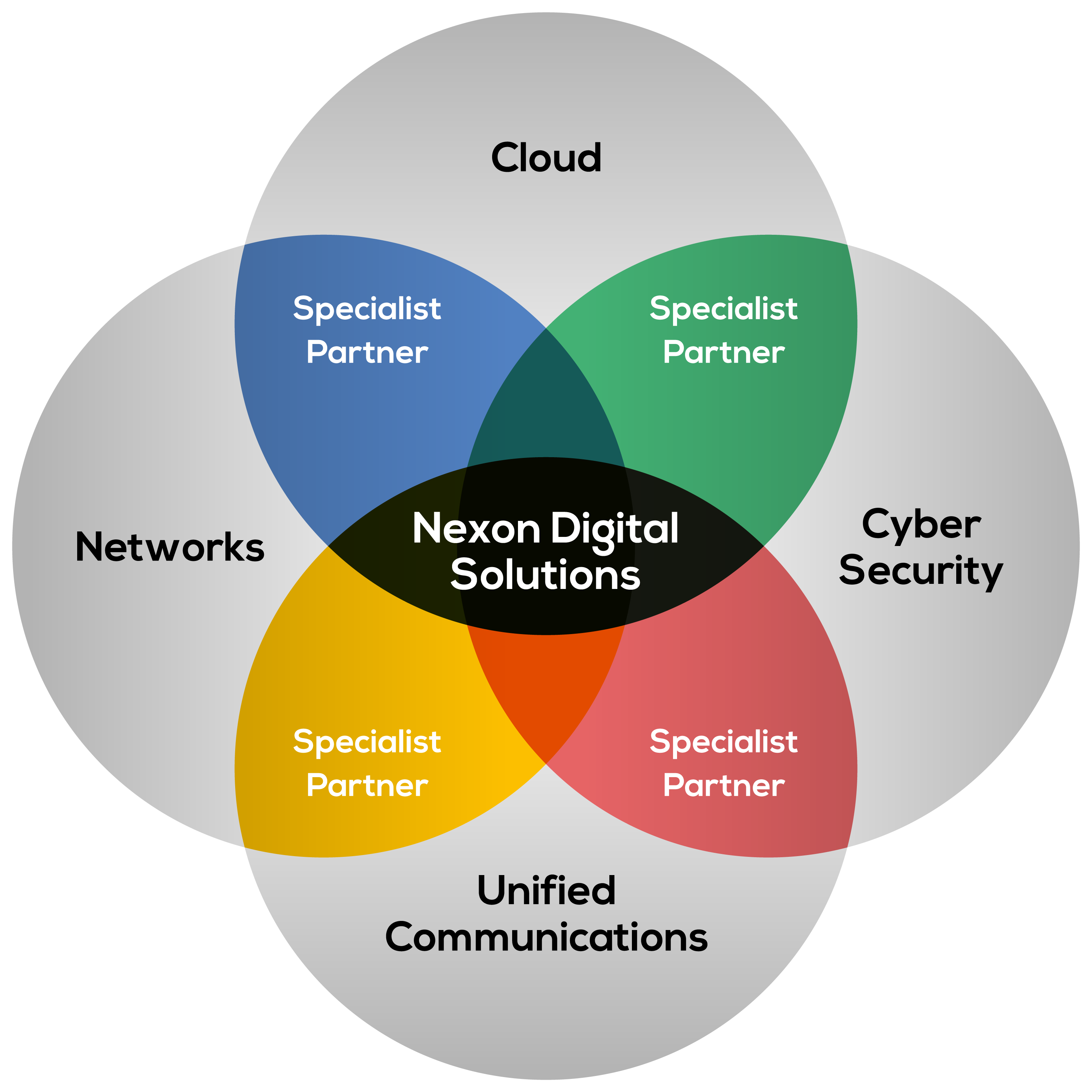 Enterprise technology is a team sport
No one technology vendor has all the answers. Collaboration is the way forward.
That's why at Nexon, we take pride in our strong relationships with market leaders in the technology ecosystem, even if they could be seen as competitors. We take this approach because it's the most effective way to get the best results for our clients.
While Nexon has broad expertise in the core pillars of Cloud, unified communications, cybersecurity, networks and digital solutions, we recognise that within these pillars are highly specialist providers and platforms that solve specific challenges.
Teamwork makes everyone stronger
Rather than sell a specific solution, the ideal integration partner, or 'partner of partners', will connect and harmonise best-of-breed technologies to deliver smooth and secure data flows with seamless customer and employee experiences.
The role of a systems integrator is to bring together the best partners across your ecosystem of software, hardware, and services to power your enterprise.
There are many significant benefits to this approach:
Best-of-breed results: If you have unique needs, true specialists in areas like finance, HR, CRM or supply chain management can often outperform one-size-fits-all platforms.
Scalability and flexibility: Integrating with multiple vendors allows you to adapt and grow specific parts of your tech stack and switch solutions to meet demand.
No single point of failure: Betting on one provider can lead to the risk of lock-in. Switching becomes complex and costly, and your success, or failure, is tied to theirs.
Leverage expertise: Integrating with multiple solutions enables you to tap into and transfer specialised third-party domain knowledge into your operation.
Joint innovation: Stay ahead of the competition by rolling out the latest innovations as they are launched by various vendors rather than waiting on one product roadmap.
You need this integrated with that? We know just the people.
Like that well-connected friend who knows the perfect person for everything, Nexon has built an ecosystem of market-leading technology partners we trust and recommend. Personal referrals make the world go round in life – and in business.
From connected communications, cloud computing on demand and cybersecurity to video conferencing, digital workflows and digital transformation specialists, Nexon gives you access to our ecosystem of specialist technology partners.
By tapping into this network at the right time, we enable you to scale up your technology stack as you grow while maintaining integrated functionality and security.
Our in-house team of experienced project managers, engineers and experts give you a central point of contact and manage the overall projects working closely with your internal team.
Want to tap into Nexon's technology partner network?
We aim to empower your team to focus on growing and innovating your core business by leaving the backend infrastructure to Nexon and our partners. If you're looking for an end-to-end provider with a well-connected technology ecosystem, let's connect.
Garth Sperring is GM – Network at Nexon Asia Pacific. For more information about Nexon's networking, security and SASE solutions, contact Nexon today.