Legal practitioners around the world are seeing rapid changes take place, not only in their own industry but also in those of their clients. To stay competitive and relevant firms, of any size and practice, need to embrace 'digital disruption'.
Taking control of your firm's future
Traditionally, the legal industry has been a high-cost, complex environment, but digital disruption is bringing about its metamorphosis into a simpler, more accessible and more affordable domain through harnessing the capabilities that technology offers.
How can you transform your firm for tomorrow's requirements and innovate?
There are two quick-win, elementary steps that firms can take on their transformation journey to change their work practices, processes and technology and provide a strong foundation for transformative endeavours:
Transform the hardware and software that your firm operate on
Transform the way you manage and maintain technology within the firm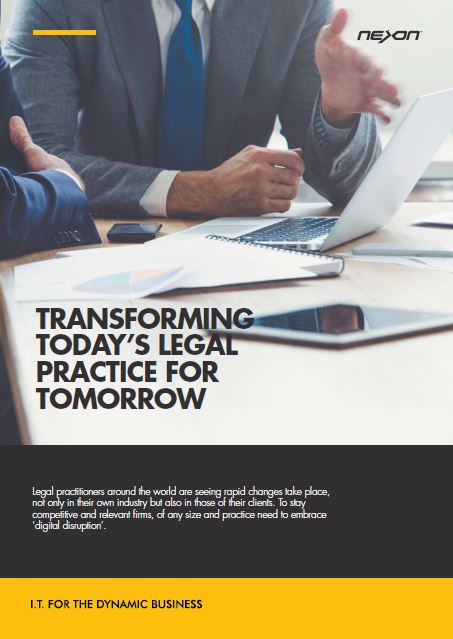 Download the complete Whitepaper "Transforming today's legal practice for tomorrow"
Download
Nexon's I.T. Solutions for the Legal Industry
Unprecedented disruption in the professional services sector means that no longer can anyone stay on their laurels for too long.
With a proper strategy and approach, the right systems and applications, you would be able to stay ahead of the pack.
Learn more
Founded in 2000, Nexon Asia Pacific (Nexon) is a cloud and managed service provider delivering cutting-edge solutions, helping businesses to run more efficiently, create better user experiences and explore bigger opportunities.
Nexon's depth of expertise spans across a range of technology specialities and industries, bringing these skills together to create business solutions, simplifying the process – and the technology – for its clients.
---
Get in touch with us today.
Contact us on how Nexon can help your organisation achieve a fully redundant, always-on I.T. environment.
Contact us