Today's workplace is changing. Organisations are navigating technology disruption and new expectations from both staff and customers are driving new ways of working.
With a multigenerational workforce that includes tech-savvy Millennials, the need to cater for remote workers, along with the increase in volumes of data, and the ease of access to work files outside of the physical workplace are all driving the need to adapt to this new world of work.
Organisations are left with balancing security and employee demands, across multiple devices. Nexon's Digital Workspace enables this vision, delivering secure access to applications and data from any location and any device through a single interface.
Balancing Mobility, Agility and Security
Delivering the mobility and flexibility the business needs and expects is about enabling your team to be productive from any location or device while controlling who has access to company data, when and how.
By providing employees with a single point of access to everyday applications, no matter the device or cloud, organisations can simplify IT and also remove some of the associated risks such as the use of personal devices and B2C applications, unsanctioned file sharing and collaboration tools to do their work.
---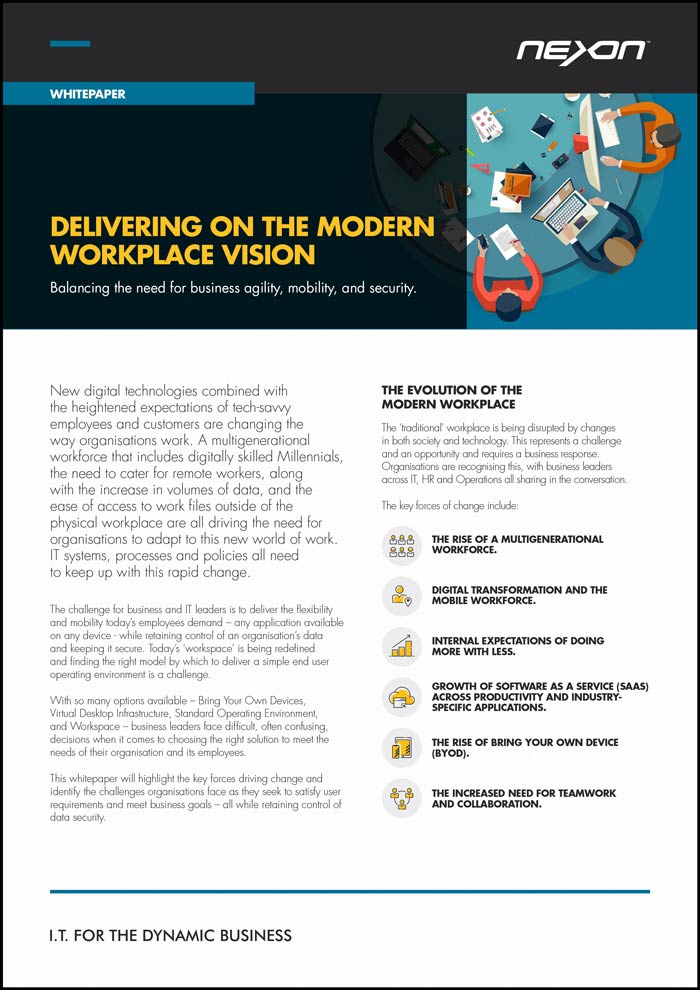 Download the
Complete Whitepaper
Download
---
What's Driving your Modern Workplace?
From physical workplace to digital workspace – a look at the trends that are challenging and changing the way we work.
What's driving your modern workplace?
Founded in 2000, Nexon Asia Pacific (Nexon) is a cloud and managed service provider delivering cutting-edge solutions, helping businesses to run more efficiently, create better user experiences and explore bigger opportunities.
Nexon's depth of expertise spans across a range of technology specialities and industries, bringing these skills together to create business solutions, simplifying the process – and the technology – for its clients.
Get in touch with us today
Contact us on how Nexon can help your organisation achieve a fully collaborative environment.