It's a challenging time for local government. Thanks to changes in technology, people have developed high expectations of service providers – including local councils. Communities want higher quality, timely services. Ratepayers want to see their rates being spent effectively and they want to see transparency in decision-making.
Running alongside these heightened expectations are major financial constraints. Ratepayers might want a whole lot more from local government, but they don't want to pay higher rates to enable those expectations to be met. Similarly, federal and state funding for local government is also scarce. So, increasingly, local governments have to do more with less.
How rapid technology changes and cultural shifts have affected local government
The last few years has seen rapid advances in technology. Local government, like every other organisation, has had to make a decision on digital transformation, the shift to the cloud, and the Internet of Things, among many other changes. This speed of change is unlikely to stop anytime soon.
Download the complete whitepaper to continue reading.
---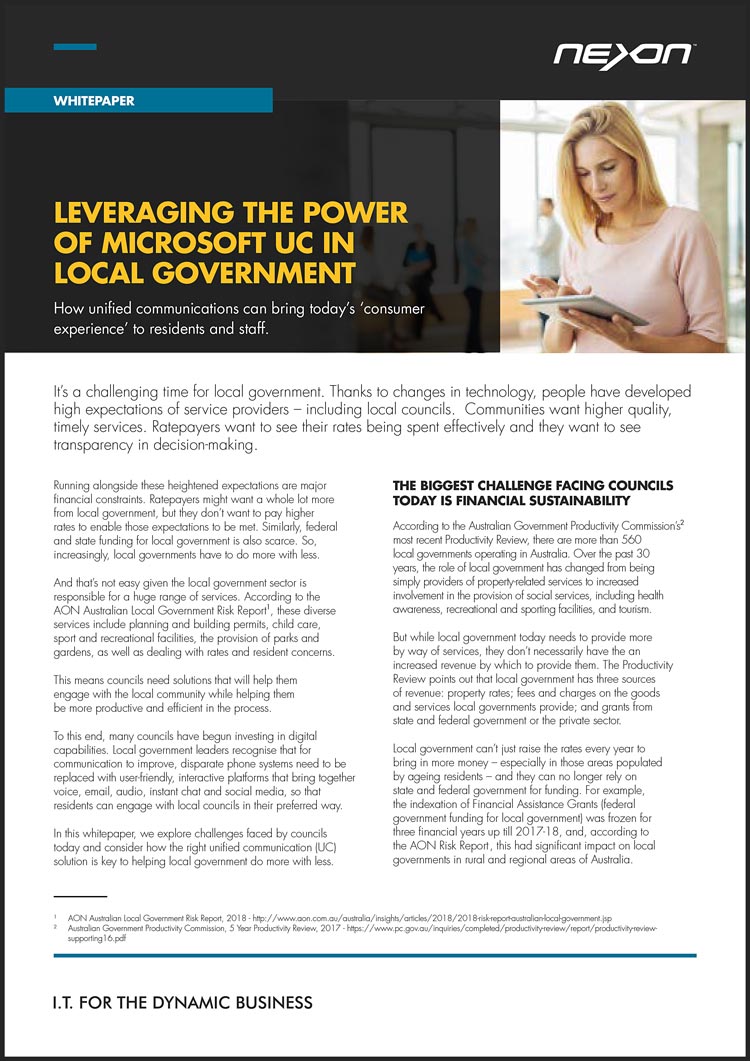 Download the complete whitepaper.
Download the complete whitepaper
Founded in 2000, Nexon Asia Pacific (Nexon) is a cloud and managed service provider delivering cutting-edge solutions, to help businesses run more efficiently, create better user experiences and explore bigger opportunities.
Nexon's depth of expertise spans across a range of technology specialities and industries, bringing these skills together to create business solutions, simplifying the process – and the technology – for its clients.
---
Get in touch with us Today
Contact us on how Nexon can help your organisation achieve a fully collaborative environment.